Woo hoo! 2nd sponsorship! Both seafood places, and none for any money, but I will take free things from awesome places such as free seafood or free shirts 🙂
I just got 3 Dirty Dicks Crab House T-Shirts hand delivered today! This all came to be after one of their owners contacted me on Facebook and asked:
"You did a handstand in front of dirty dick's restaurant in the outer banks of North carolina. would you wear a Dirty Dicks t shirt if we printed it upside down for you?"
This all came to be after they discovered my handstand picture from last summer there:

They have added this picture on the top rotating banner to their website at http://dirtydickscrabs.com, check it out!
Of course the answer was YES! My family has been visiting the Outer Banks in North Carolina for years and Dirty Dicks Crab House is one of the most well known names there. I thought it was so cool. I even have a Dirty Dicks bottle opener on my keychain that I picked up from my visit last year.
In any case, I now have 3 awesome custom printed t-shirts that I can show off in some upcoming handstand pictures.

These shirts are AWESOME! Thanks!
NOTE: Don't forget to add "crabs" to dirtydickscrabs.com because the other site might scar you for life.
---
You may have thought by the title of this post, that I would be dedicating myself to helping world hunger, but currently that's not the case. It's simply dedicating a handstand for free food! The Shrimp Connection officially made an offer for me to handstand their store at 14735 Bristow Road in Manassas, VA, 20112, in exchange for a free delicious meal there. I think this is fantastic and I will be chowing down the next time I can swing by! See the offer here.
The Shrimp Connection
The Offer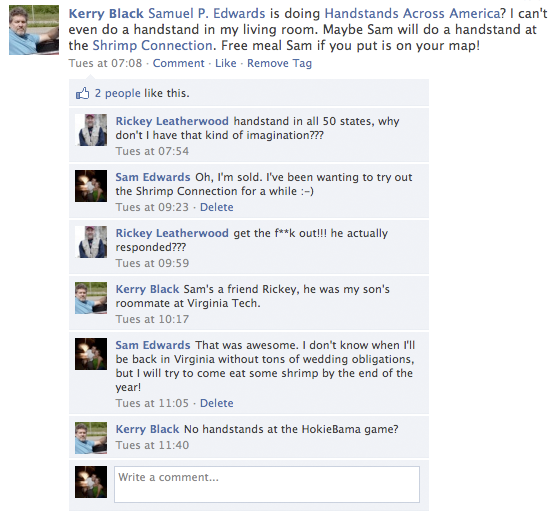 ---