Welcome to my Living Room [Flickr]

Maybe you like this corner of the ceiling better? [Flickr]

Why are You Sitting on the Floor? [Flickr]

Deck with Bike [Flickr]

Open Kitchen and Living Room [Flickr]
---
Kristen has discovered that she really likes thai food, so I made some tonight.

Thai Red Curry Chicken with Cilantro over Brown Rice [Flickr]
---
Almost done packing! Will finish in the morning, and Monday morning it is bon voyage! Blacksburg, VA -> Greenville, South Carolina! It's crazy, but I'm pumped 🙂
---
Went down to South Cackalacky (SC) to move in Kristen this weekend w/the MIGHTY POWERS OF THE MINIVAN and it was a complete success. So much so that she said the weekend was "uneventful". I like to think that scrounging around and finding tons of awesome (well not perfect, but still good) furniture, cleaning supplies and random things, and helping move it in helps that a little. Her place is looking great, and I think she'll love it. The only problem I see is with her and the little beetles, haha.
In any case, on the way back, I was super impressed with myself. I filled up for a whopping…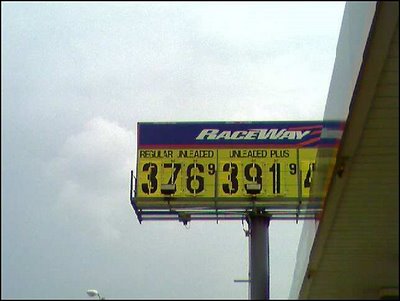 Much better than the 4.09 I saw in Statesville, NC off of I-77 near Broad Street.
---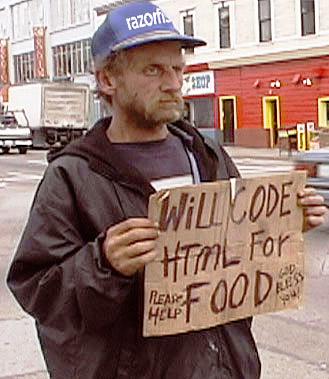 So in just under 9 hours I will be this man. My lease ends today and I will officially be a homeless computer programmer. A lovely world it is! He is completely burden free of "cleaning" and "making the bed". Ahh, what a wonderful life, sleeping on the streets!
Well, not too far from the truth. Graciously crashing with Jared, Kristen, Family and then off on my Handstands Across America adventure I go starting July 24th!
I am looking forward to helping out Kristen with all of her new found furniture and then hopefully will be wrapping up my 7 year stint in Blacksburg. I told myself I had to leave Blacksburg by the time I was 25 so I wouldn't be a townie for life. I will be leaving on the night of July 14th… and considering my birthday is the 15th, I'd say that is one closely met goal!
Onward to my new home! (your couch and the great outdoors!)
---
Getting rid of stuff….
---
The past two weeks have been CRAZY, and the next two will not let up.
Next Two Weeks…
Thursday(3rd):
-Packed my car this morning (soo full)
-Driving up to Arlington after work
-Unpacking/Cleaning Current room at home
Friday(4th):
-Community Parade in the AM with family
-Going to Stafford to hang out with my Cousin April
-Going to Woodbridge(ish) to Jason's house for the 4th
Saturday(5th):
-Going to Arlington to Drop off my speakers, mixing board, and Kristen's car.
-Going out in Baltimore to hang out with Shulsky, Martha and Brett
Sunday(6th):
-Going back to Arlington for Afternoon/Dinner
-Driving back to Blacksburg
Monday(7th):
-Full Day of Work
-Pack up final things and move to Jared's house for storage
-List things on craigslist or email equivalent
Tuesday(8th):
-Full Day of Work
-Maybe some flying??
-Get rid of said "craiglist" items or dump them
Wednesday(9th):
-Full Day of Work
-Dentist Appointment (Cavities filled)
-Clean out trash and final things from the house
-Super Scrubbing of the house
Thursday(10th):
-Lease ends
-Turn in Keys
-Final cleaning?
-Pack Kristen's stuff into my car
-Softball Game (tourney begins)
-Sleep at Jared's
Friday(11th):
-Full Day of Work
-Drive to Greenville, SC to visit Kristen/Help move her in
Saturday(12th):
-Go to her storage unit, load all the stuff into her new place
-Get her place somewhat situated
Sunday(13th):
-Drive Back to Blacksburg
-Pack up my stuff that I left at Jared's into my car
-Crash at Jared's
Monday(14th):
-LAST DAY IN BLACKSBURG!! (This trip is really happening!)
-Teleconference/Webex presentation
-Drive to Arlington
-Unpack
Tuesday(15th):
-Full day of work (from Arlington)
-IT'S MY BIRTHDAY!
That weekend… Camping in celebration of 1/4 century of Sam 🙂
phew.
---