In case you haven't checked it out lately, or didn't know about it… There is a map of the Handstands I have done.
Click on the map here to check them out!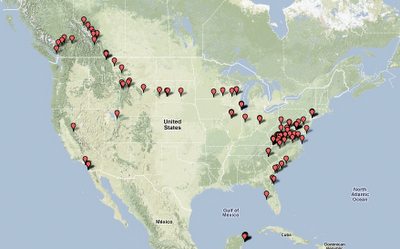 ---
Maybe tonight? I'll do some HDRs, I have the pics now, just need to merge them at somepoint. For now, here are my new pics!
Go support your local Staples store, they have provided me with internet today unknowingly!
Route 99 in British Columbia is truly scenic. Here is a roadside view

When I attempted to locate the ferry docks, I stumbled upon Horseshoe Bay Provincial Park which I loved. Definitely will go back some day.

I love how the hills just come out of the water.

And the island was super cool, of course I went over 🙂

Just really loved the landscape. I think I drove by some millionaires houses because they had these outstanding views and were just decadent places.

On my way out to the island…

Just really liked this place. One of my favorite "stumble upons" during the trip.

On the "island"

Handstanded! This is after I got adventurous and went for a dip in the chilly water. It was my "shower", gross, eh?

A random note… has anyone ever told you about Mount Ranier? I crapped my pants when I saw it from highway 99. In the car I actually said "holy shit!" out loud. hehe.
I didn't get a pic, but here is someone elses…

So you've heard of "Lions Gate Films"? Well, here is the bridge! "Lions Gate Bridge"

And the view next to the bridge

Stanley Park, which is where I took the bridge pictures from is LITERALLY crawling with racoons…

More Bridge

and more…

Random Vancouver City

Go Vancouver Team! I think the canucks play next door to this place?

Coming back across Lions Gate at night, trippy effect

Trippier

Vancouver Skyline at 450am from Cypress Park

These were 20 second exposures 🙂

Correctly aligned. This is my favorite 🙂

A view from my dash of the Ferry Lineup at 530am

A view of the mainland from the ferry

More mainland…

Looking off the back of the ferry…

And the "Sun Deck"

Looking off the deck

off the back

Namaimo on Vancouver Island

So I'm driving, and didn't know there were "big" mountains on the island. I looked up and saw this and about crapped my pants. Those clouds can be tricky!

Roadside park…

Cool trees, will have to get some wide angle shots…

Sweetness..

Pacific Rim National Park and Tofino, here I come, it is 1123am here and I'm off!
---
I made it, after sleeping in my car on the street, and hearing people talk about girls, and some guy at 4am taking a piss and then driving off… O well, it's done and I am here in dreary vancouver island.
Off to Pacific Rim National Park and Tofino! I have a campsite the next 2 days, woo hoo! One in Pacific Rim, the other near Victoria.
USA bound on Tuesday at 3pm to Port Angeles.
Pictures will come as soon as internet with speed comes.
Cheers!
---